If you're an anglophone living in Quebec who hasn't quite grasped the French language to the fullest, you might be familiar with the word petit.
That's especially the case if you listen to what separatists have to say.
They accuse the federal government of leaving Quebec with le petit pain (essentially meaning Ottawa takes an entire loaf and leaves them with the dinner roll you see at the St. Hubert's).
If you listen to what federalist Francophones have to say about separatists, you'll hear them use terms such as 'petit penseur' (mentally weak) and/or 'petit peuple' (fickle/insignificant people).
We see at least one example of the 'petit penseur' complex in Quebec each day.
A lot of people in the ROC scratch their heads wondering, how can separatists be so utterly ridiculous?
The short answer (to avoid having to write the history book): When France colonized Quebec, they took a page out of Britain's playbook when they colonized Australia – they sent all their garbage over.
Yes, that's right – the vast majority of Quebec's initial population was composed of pimps, thieves, rapists, fraudsters and bank robbers.
When the king of France got wind that his soldiers were copulating with the 'dirty native' women that they were instead supposed to suppress, he sent in a legion of hookers.
Fast forward to the military conflict France had with Britain…
…The English kicks the French army's ass.
Surviving French soldiers round up the French aristocrats and together they abandon Quebec…leaving the pimps, thieves, rapists, fraudsters and bank robbers…and hookers behind.
Like with Australia, time and evolution saw future generations shrug off the ways of their forebears and create good lives for themselves.
There's no doubt in my mind that some of these criminals took their chance at freedom over a life in jail as a godsend and swore to set themselves straight.
However, for some, breaking away from the mould set by mom and dad ain't so easy (just look at Pierre Falardeau's kids) and they carried on in their parent's ways.
The very fact that their parents were pimps, thieves, rapists, fraudsters and bank robbers (and hookers) was because they had a very limited world view, are obviously cynical and thus are very accustomed to having adversarial relationships.
The fact that the separatist movement is stagnating ever faster is proof that yet another generation is pulling away from the nasty roots cast by the founding pimps, thieves, rapists, fraudsters and bank robbers (and hookers).
But we're not quite there yet.
Case in point: Mr. Couillard delivering a speech in Iceland…totally in English.
Imagine that – Quebec's representative to the outside world, speaking to the outside world…in THE language OF the outside world.
Social media lit right up like a big bright KKKristmas tree with the last remaining descendents of the pimps, thieves, rapists, fraudsters and bank robbers (and hookers) calling Couillard a 'sell-out' and everything else they have in their arsenal of redundancy.
Of course, none of them had a comeback for this one: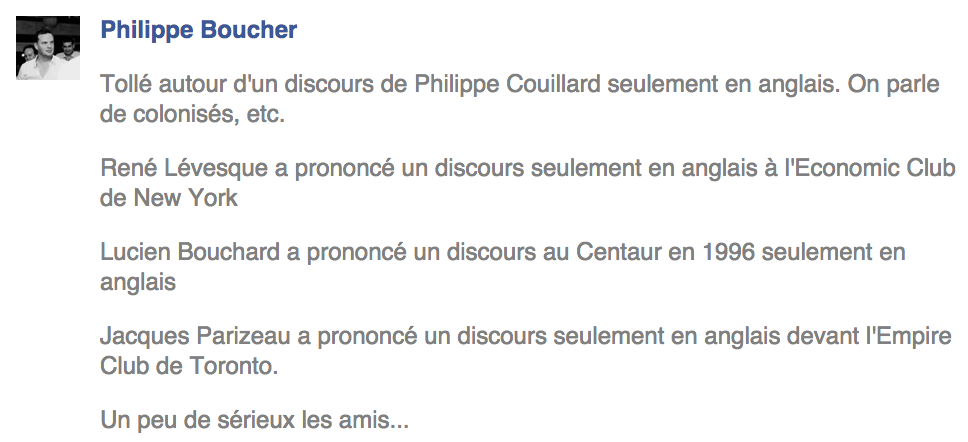 I'm sure that most of you have had the displeasure of seeing at least one animal in your lives in a dying state and seeing how that animal reacts to the fact that it will soon be dead.
With the total sovereignist vote (PQ/QS/ON) garnering just 14% in Levis, things are looking pretty damn grim right about now.
By picking up on non-Franco speech delivered by Couillard, the separatists have shown us just how close their animal is to death.